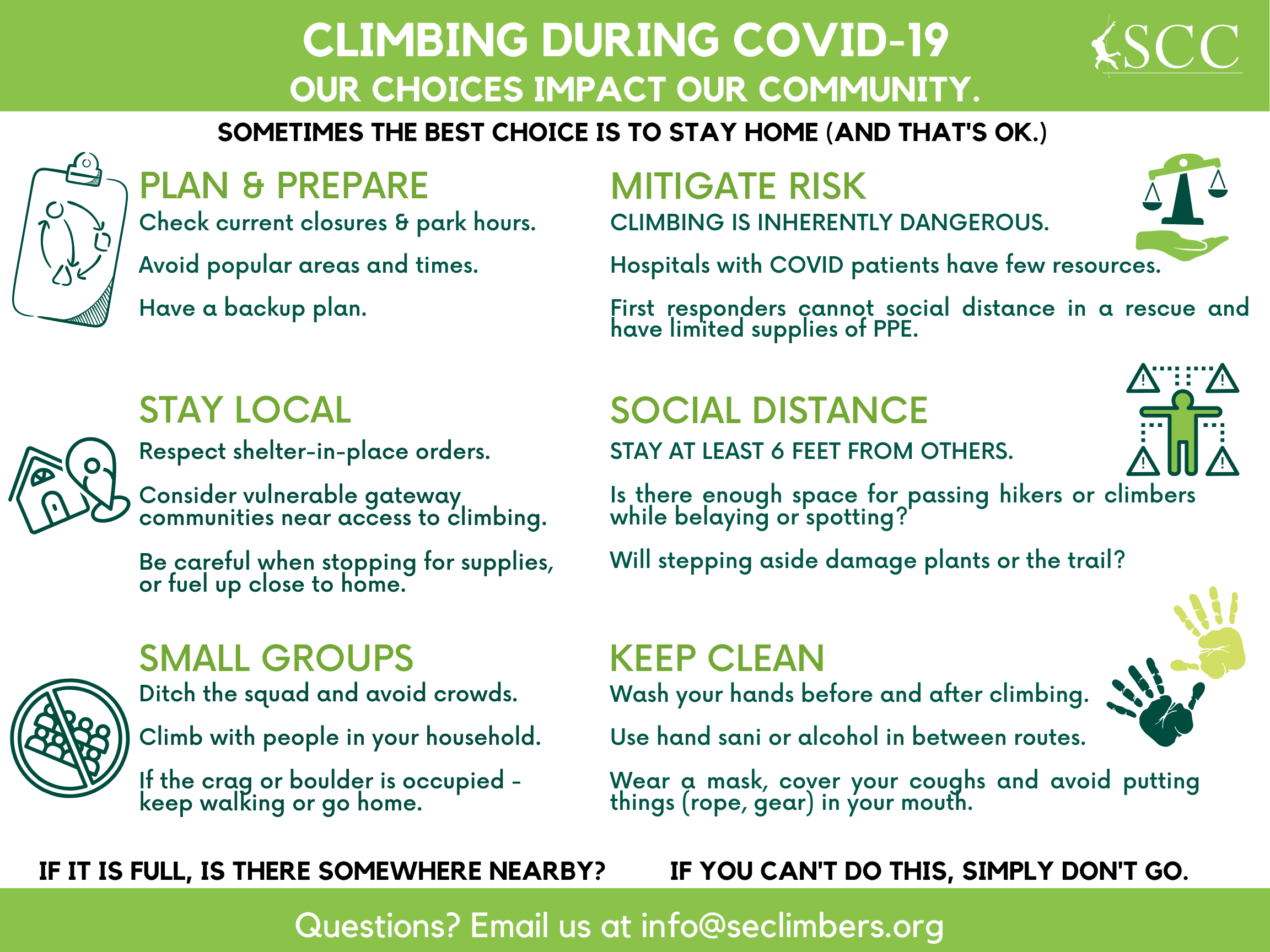 View and download here: Climbing During Covid PDF
for more information about SCC COVID-19 management plan, go here.
Hunting closure dates:
T-Wall (Tennessee Wall): Prentice Cooper State Forest and WMA will be holding managed hunts on the following dates-
Oct. 7-9
Oct. 23-24
Oct. 28-30
Nov. 5-7
Nov. 27- Dec. 2
ROCKTOWN: Crockford-Pigeon Mountain WMA will be holding managed hunts on the following dates. Also, Please remember to buy a license at https://gooutdoorsgeorgia.com
Oct. 16-17
Nov. 11-13
Dec. 8-11
The trails at Rocktown are closed until 10 AM from September – January 1st for archery season. 
CLOSURES/REOPENINGS:
We will update this as soon as we receive notification. Updated: 5/27/2020
SCC Properties: Announcement 10/7/2020
 Hospital Boulders, Deep Creek, Steele, Jamestown, Yellow Bluff, King's Bluff, Boat Rock, and Castle Rock are currently open under new protocol.  View property page for more information and to receive a gate code. Gate codes are no longer limited to 10 per day.
Boulders on Old Wauhatchie is reopen as of Friday, May 15th.
Chattahoochee-Oconee National Forest  3/21/20 "Camping and group recreation sites on the Chattahoochee-Oconee National Forests have been closed indefinitely for the health and safety of visitors and staff." Access to Currahee and Mt. Yonah is available. Recreation_Closure_News_Release
Cherokee Rock Village is open as of 5/7 for day use only. Update 5/7: Cherokee Rock Village will open for day use only beginning at 7am on Friday May 15th. The park will be accessible from 7am to 7pm daily and the gate will be locked at night. The camp store will be open as well although only one customer at a time will be allowed inside. Our staff will increase the frequency of sanitizing common areas and disinfect the playground equipment on a regular basis. We will make a determination whether to allow camping after two weeks of operation.
Chickamauga-Chattanooga National Military Park is in a phased reopening as of 5/15/2020. All trails and most parking lots are now reopen. Visit NPS website for more information.
Little River Canyon National Preserve: 3/23 Park Superintendent reported that the Canyon Center, restroom facilities, and Canyon Mouth Park are closed.
Tennessee River Gorge Trust  properties are open as of 5/4/2020. 
Prentice Cooper State Forest Properties will reopen 5/4/2020 after the turkey hunt. This includes the Tennessee Wall parking lot and campground. More info here. 4.2.2020 Prentice Cooper State Forest Closed
Obed – East Tennessee Climbers Coalition access @ Doc Howard Rd has reopened as of 5/4/2020.
Tennessee State Parks: 4/24 Most TN State Parks will reopen for day use only – please read park information here. This includes South Cumberland State Park (Foster Falls & Denny Cove) and Cumberland Trail State Park (Hell's Kitchen, Buzzard Point, Pep Boys, Big Soddy, Dogwood Boulders).
Parks are only open for day use; some parks will close gates at 6 PM. Cumberland Trail Sate Park is open for backcountry camping as of 5/13/2020. Please avoid crowding as TNSP will close entire parks or sections of parks if overcrowding becomes an issue. Groups of ten or less should observe social distancing within their group. In addition, TN State Parks have asked the folks the following:
Don't visit if you're sick or were recently exposed to someone with COVID-19.

Practice social distancing.

Maintain at least six feet of separation between you and other visitors.

Don't travel long distances to visit state parks.

Look for parks that are a short drive from your house.

Don't visit crowded areas.

If parks are full, consider coming back at a different time. Consider coming earlier in the day to allow for plenty of time if an area is full and you need to adjust your plans. Tennessee State Parks may limit access to certain parks or areas if capacity is reached.

Only park in designated areas.

Please do not park along the shoulders of roads. If a parking area is full, please adjust your plans and find another area to visit.

Follow all park rules and regulations.

You can find our rules and regulations here.
We especially ask that you stay on trail and not enter areas that are closed or restricted.

Plan ahead.

Understand if a park or area of the park you plan to visit is open or closed. Specific details on which parks will reopen will be available on the COVID-19 Closures page later this week.
Bring everything you will need to have a safe and enjoyable day in the park. Here are a few specific points for planning:

Closed buildings. Remember that many buildings will still be closed during your visit. It's important to bring your own snacks, water and hand sanitizer.
Restrooms. Some restrooms may be open, but many will remain closed. Even if restrooms are open, we ask that you help us keep them clean and practice appropriate personal hygiene in accordance with the CDC's recommendations.
Masks. We recommend that you bring a mask and wear it when around other people.

Pack out your trash.

When it's time to leave, please clean up after yourselves. Carry out any trash or dispose of it in the appropriate containers.

Contact Information.

If you need to reach our staff, or need assistance from our rangers, you will find signage posted on Visitor Center doors. In the event of a life-threatening emergency, please call 911.
Dogwood West Access is reopen as of 5/22/2020,