When working on a grant proposal earlier this year, I stumbled upon a document written by former SCC Stewardship Director, Angie Langevin, in 2018. Seeking support for improving SCC's stewardship efforts, Langevin lamented that one of the challenges was a lull in volunteer attendance. She said "people would get psyched for events and comps, but not volunteering or getting involved/donating." I read that and thought, wow that is not the case anymore. Last year, some of our largest Trail Daze events had over 40 volunteers! The increase in volunteer psyche and turnout is in no small part thanks to Tj Maurer and Todd Clark and their company On the Road and Off. The meeting of the minds between Angie and ORO back in 2018 would spur the "Triple Crown of Trail Days" concept, which we call Trail Daze of Summer, and the rest is history.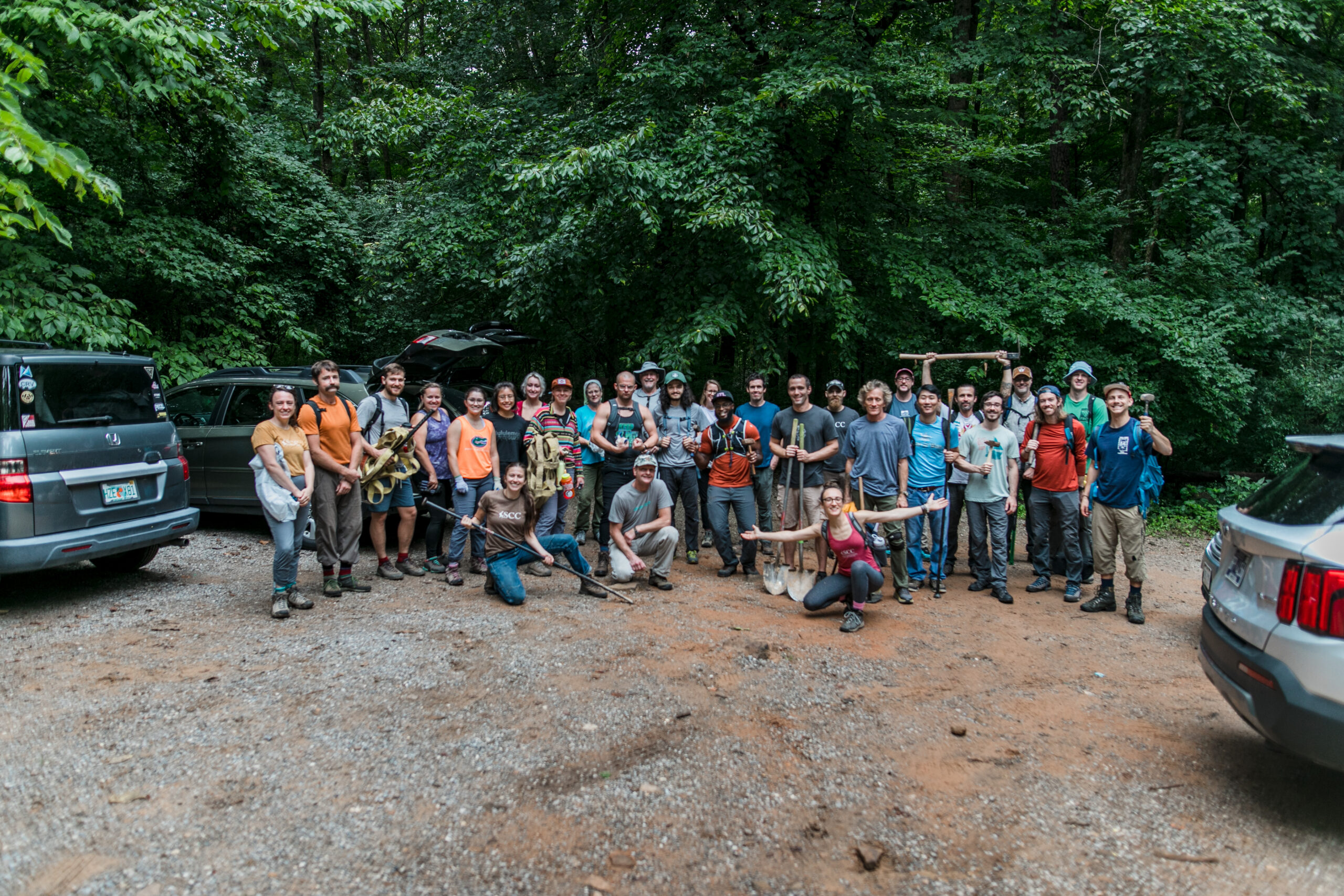 An army of volunteers gathering for the 3rd and final Trail Daze of Summer in 2022 at T-Wall
Now in 2023, we're faced with a different set of challenges. We are beyond simple trash clean-ups and corridor clearing (although sometimes we need to do that too). Our climbing areas need major erosion control and infrastructure support that takes time, knowledge and skills to execute. In order to harness our amazing volunteer power, we need more skilled volunteer leaders to make our projects effective and high quality.
We approached On the Road and Off, as our most steadfast supporter of stewardship, with the idea of hosting a Trail Skills Workshop. Having spent many days volunteering at Trail Daze, they understood the need for more project leaders and trail skills training. ORO jumped on board to split the cost with SCC to make the first iteration happen this spring, in anticipation of our 5th anniversary of Trail Daze of Summer. 
For the pilot version of this concept, we reached out to our key volunteers, Area Reps and former Trail Daze rockstars to offer some trail skills training. We hosted two workshop days – one at Woodcock Cove and the other at Hospital Boulders.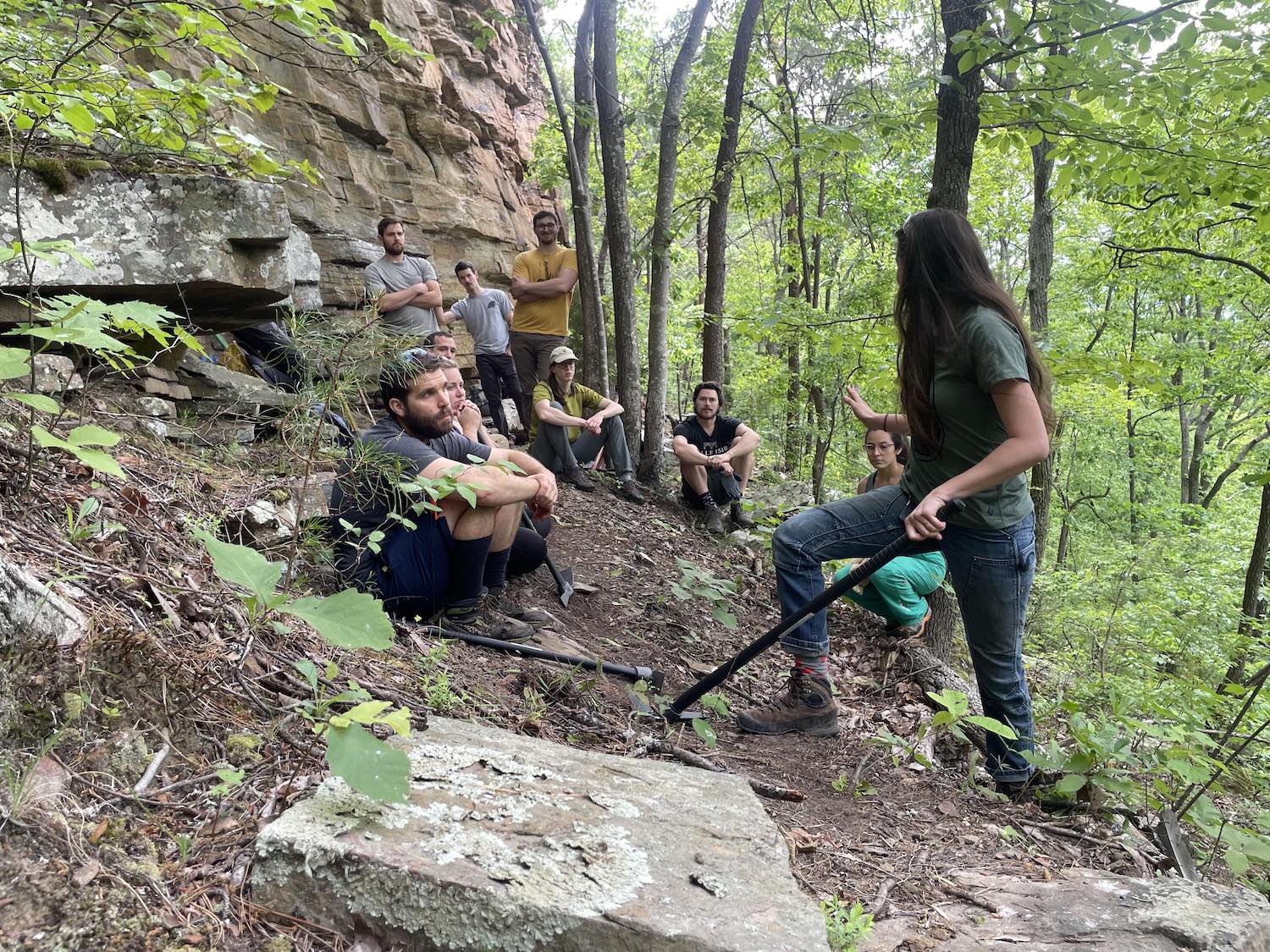 Stewardship Director Kate Hanes explaining bench cutting to the new generation of skilled Trail Project Leaders.
At Woodcock Cove, an area where we still need to cut a lot of new trails, we focused on tread and dirt work skills. Volunteers learned how to bench cut – building tread on a steep cross slope. And they learned one of the hardest skills to teach, but one that is essential to trail building – creative problem solving. I always say, trail work is a can of worms. It is rarely straightforward. Volunteers learned to navigate roots or large iceberg rocks that couldn't be moved. They learned that sometimes you hit clay quickly, and sometimes you are pulling up a foot of duff before you find solid ground. Chris Winters also taught a lesson about proper pruning technique, showing us how to prune branches back to the branch collar, which promotes proper healing.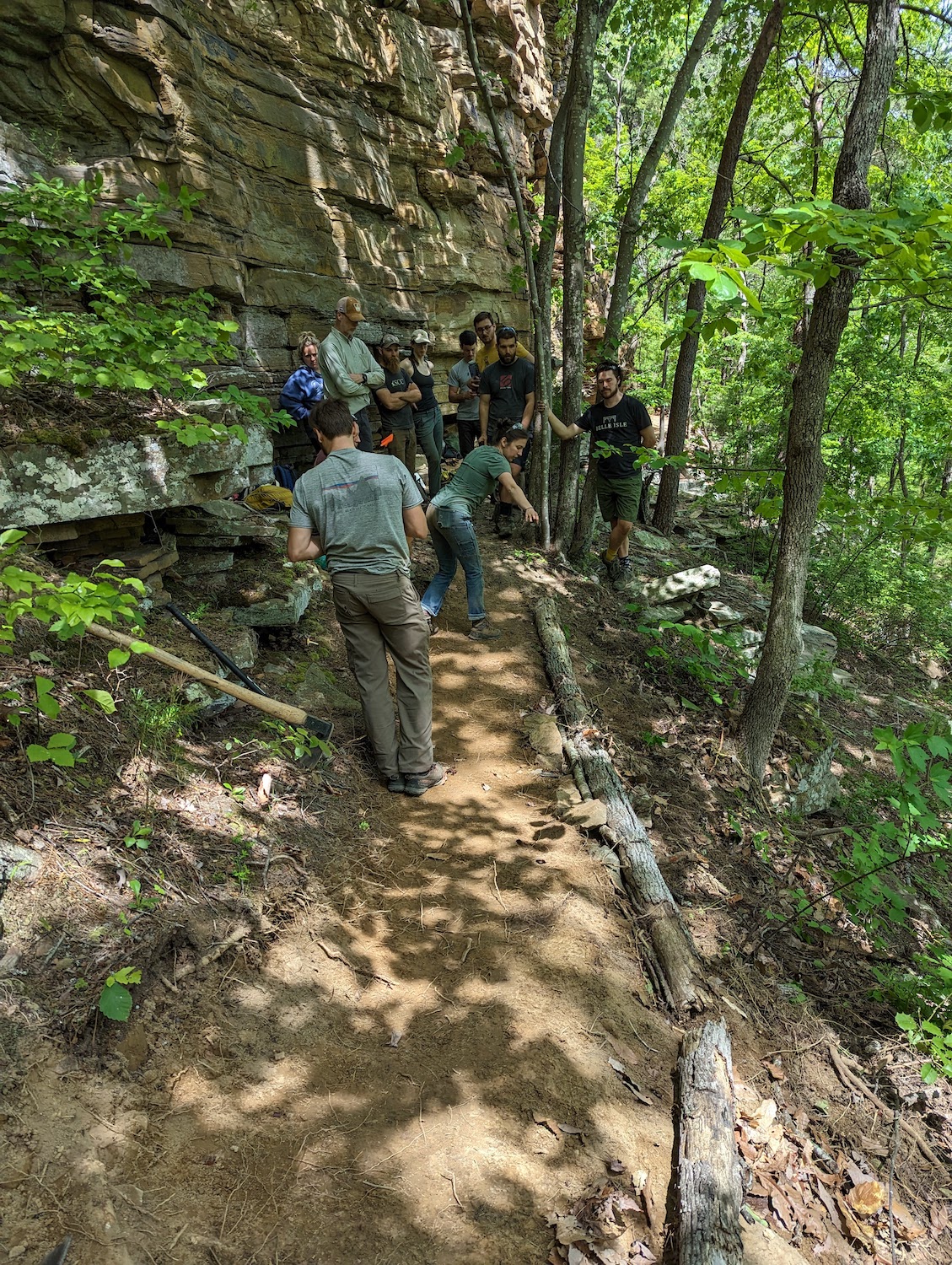 Volunteers at Woodcock Cove learn the WHY behind trail building and it's impact on erosion control.
After lots of learning and bench cutting, volunteers walked away with a little more knowledge of "why" behind trail and climbing area infrastructure work and more confidence going into summer trail daze. 
"Normal trail days normally involve simply executing a task you've been given, but this Trail Skills Workshop focused on a deeper understanding of the do's and don'ts of trail building and sustainability, etc. While mastering trail development undoubtedly takes hours and hours of experience, this group is now better prepared to identify and improve trail sections independently, improving trail day efficiency and reducing the burden on our overworked trail experts!" – Logan Kennedy 
"Volunteering to help with trail maintenance and building is rewarding way to spend a Saturday in the Summer. The work benefits both current climbing access and helps to maintain the fragile habit around the crag for future climbers. The trail building workshop showed how building the trail correctly has lots of benefits. Proper construction helps reduce maintenance in the future by ensuring proper water runoff. Pruning vegetation with plan can prevent having to cut back limbs every year. My favorite part was learning the tricks used to help steer or keep people on the path." – Kevin Kana
At Hospital Boulders we tackled an entirely different kind of project. We began the tedious process of starting a stone retaining wall. We leveled out the project site, dropped in some really heavy anchor rocks, and leveled them out to create a stable base for our next course of rock.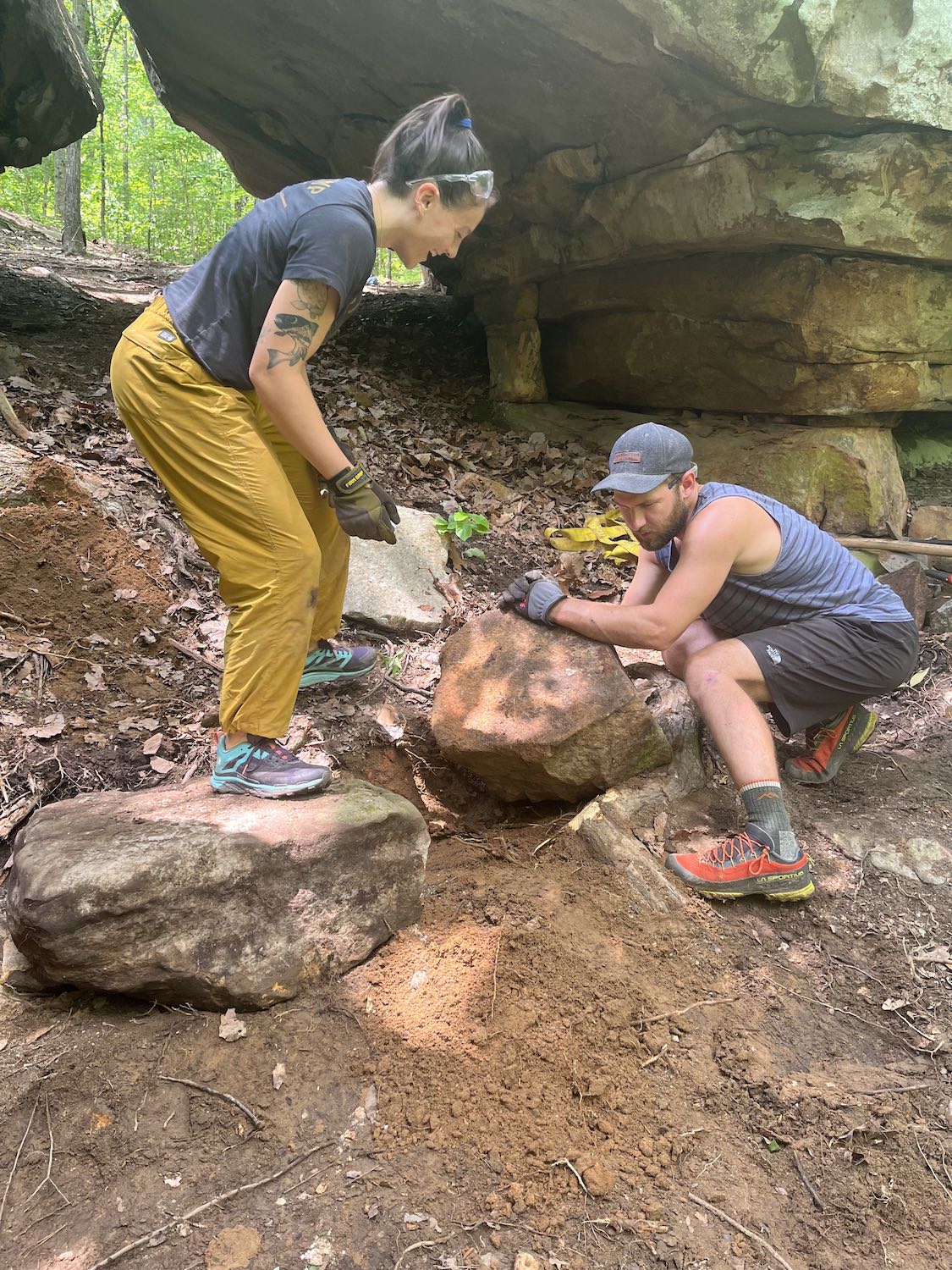 The foudational stones being laid for a retaining wall at Hospital Boulders.
It was really cool to get to dive into the nitty gritty of a rock work project with these folks. Oftentimes, volunteers get stuck doing the less fun part of carrying big rocks to the project site. This time, volunteers got to position the rocks themselves, learning the extremely tedious process of getting an irregular shaped object to sit perfectly level. 
Katie Kutner tells us why she wanted to learn some trail skills. 
"I signed up for the trails skills because I love the physical labor intertwined with the strategy that trail work demands. It's pretty cool to dive into the nuance of different decisions & tradeoffs, and work in a minimally impactful way at a crag I've used as a climber. At Hospital boulders, we laid the first few rocks for a retaining wall, which involves an almost comical amount of sweat, precision, and team work. We had time to learn the Why behind the work, and understand trail work fundamentals (like different approaches to mitigating erosion, tooling, etc) before getting to the actual labor. Even better, we had a small group of chill people to hang with all day."
The pilot year of the trail skills workshop was a wonderful reminder that there is an appetite for this kind of training in our community. It helped remind me that I don't need to go at it alone – there are so many willing climbers who, armed with a little extra knowledge, can help us steward our crags better. 
Next year, we plan to grow the series and partner with other local organizations to offer more sessions and different types of skills. If you are Interested in participating in this kind of event in the future, you can fill out the interest form HERE.
I would like to thank our friends On the Road and Off for investing in our volunteers and making stewardship cool again! 
Join us Trail Daze of Summer to make a difference at your local crag! You can find more info about individual project details here on our events page.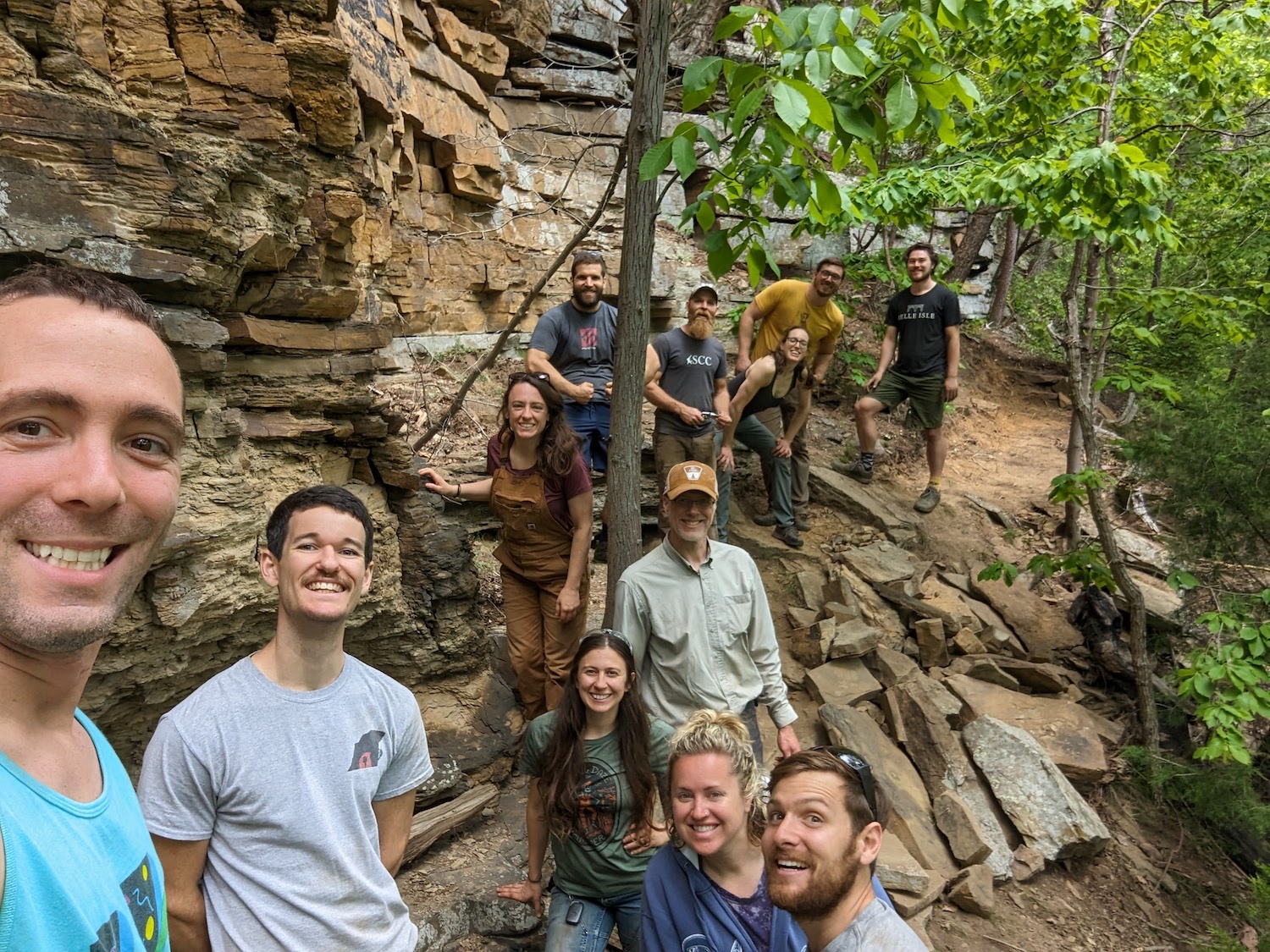 After a Trail Skills workshop, these volunteers are ready to lead their own projects and help expand SCC's capacity and impact for stewardship across the southeast.