Woodcock Cove has been open to the public for an entire year and we are celebrating all that the land has to offer.  Since opening in March of 2022, the property has been well received and widely loved within the community.  The parking lot is full almost every weekend with climbers throughout the region coming to enjoy the crag. All the while, the SCC has been hard at work building the critical infrastructure needed to withstand user traffic for generations to come. 
Woodcock Cove boasts two seasonal waterfalls, a streamside trail, majestic vistas, hundreds of rock climbs, a mile long cliff-line, sandstone corridors, and a unique freestanding sandstone tower.  This wild and rugged forest, once home to coal mining communities and the Tsalaguwetiyi (Cherokee, East), Shawandasse Tula (Shawanwaki/Shawnee),  S'atsoyaha (Yuchi), and other ancestral indigenous peoples of this region, now hosts climbers of all abilities from across the nation.  
As our region continues to grow as a worldwide climbing destination, this acquisition not only preserves climbing in perpetuity, it establishes a foothold for conservation and public access in Sequatchie Valley. The land also enhances climate resiliency in our region while protecting scenic views, wildlife corridors, streams and forestland. 
Building infrastructure while paying down the loan is critical to the success of Woodcock Cove and we couldn't do it without the continued support of our coalition of climbers.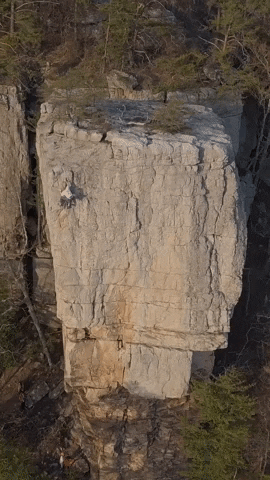 A quick peek at what we have been up to since opening
Over the last 18 months, we have worked to advance infrastructure and stewardship projects to pave the way for a sustainable future for this special crag. We have tackled some of the most challenging sections of trail construction in 2022 with help from several key partners. 
A few other accomplishments include:
The Access Fund Conservation Team worked alongside our Stewardship Director to build stone steps and cut tread through some difficult sections of the cliffline trail.

We engaged 93 volunteers in 558 hours of volunteer work on trails at Woodcock Cove.

We hosted 13 trail days. 

Our coalition of climbers helped us build trails throughout the property. 

Wayfinding signage sponsored by Scarpa was installed.

Volunteers also built a beautiful informational kiosk. 
We are thrilled with the progress we have made on this project. Now, we look ahead to the projects left to complete. In Spring 2023, we will continue to build the cliff line trail, tackle the descents to two popular areas, and continue to build out belay areas.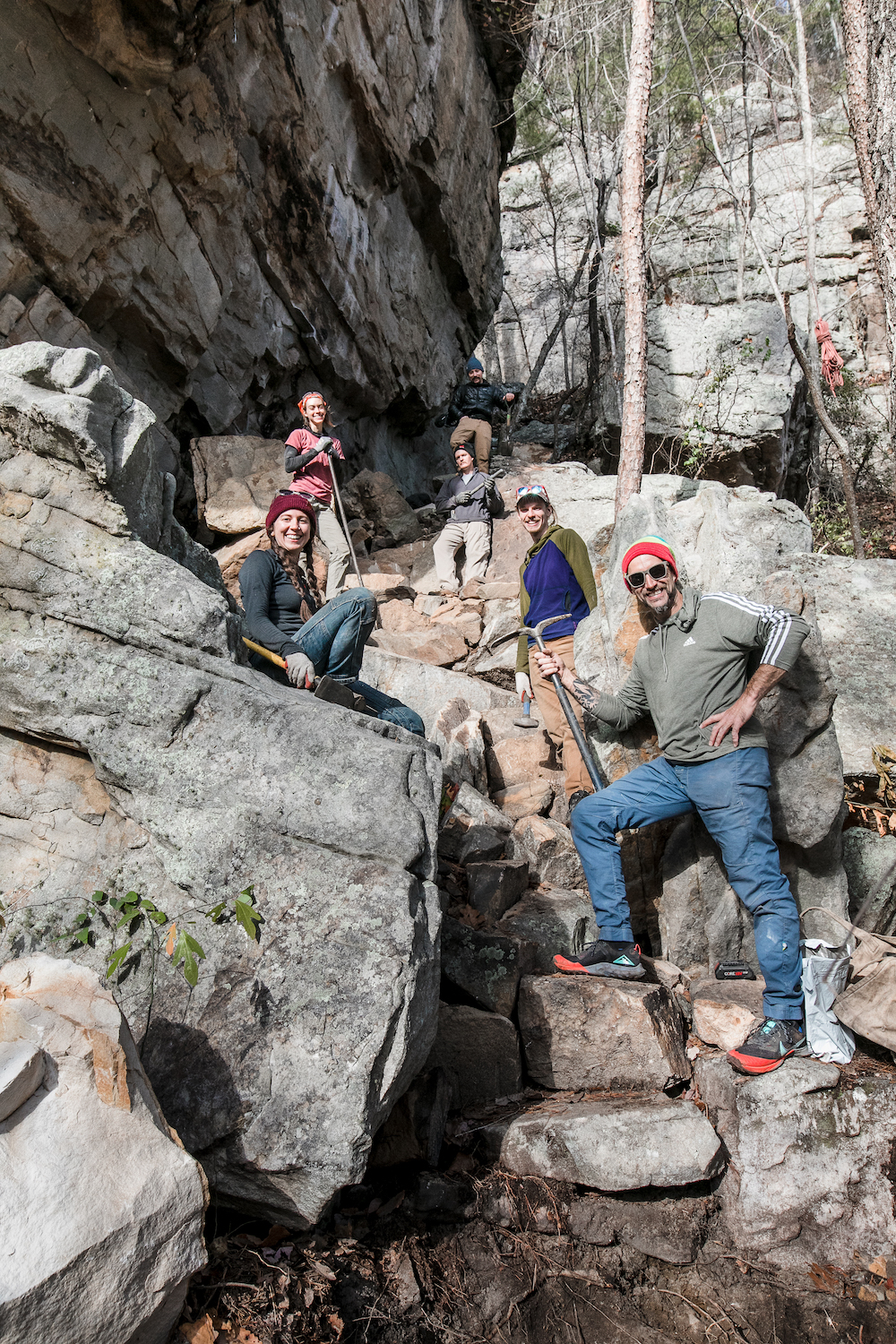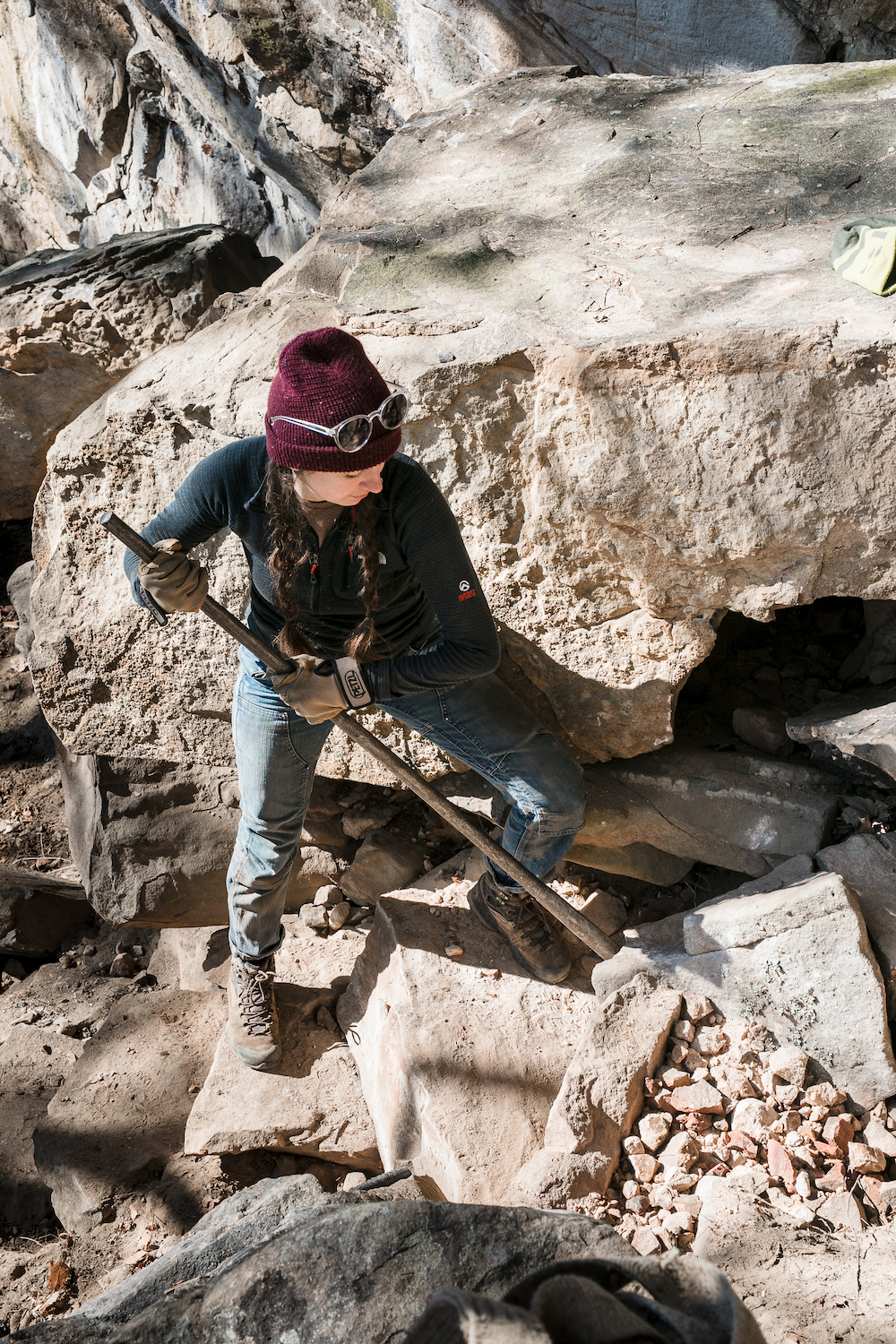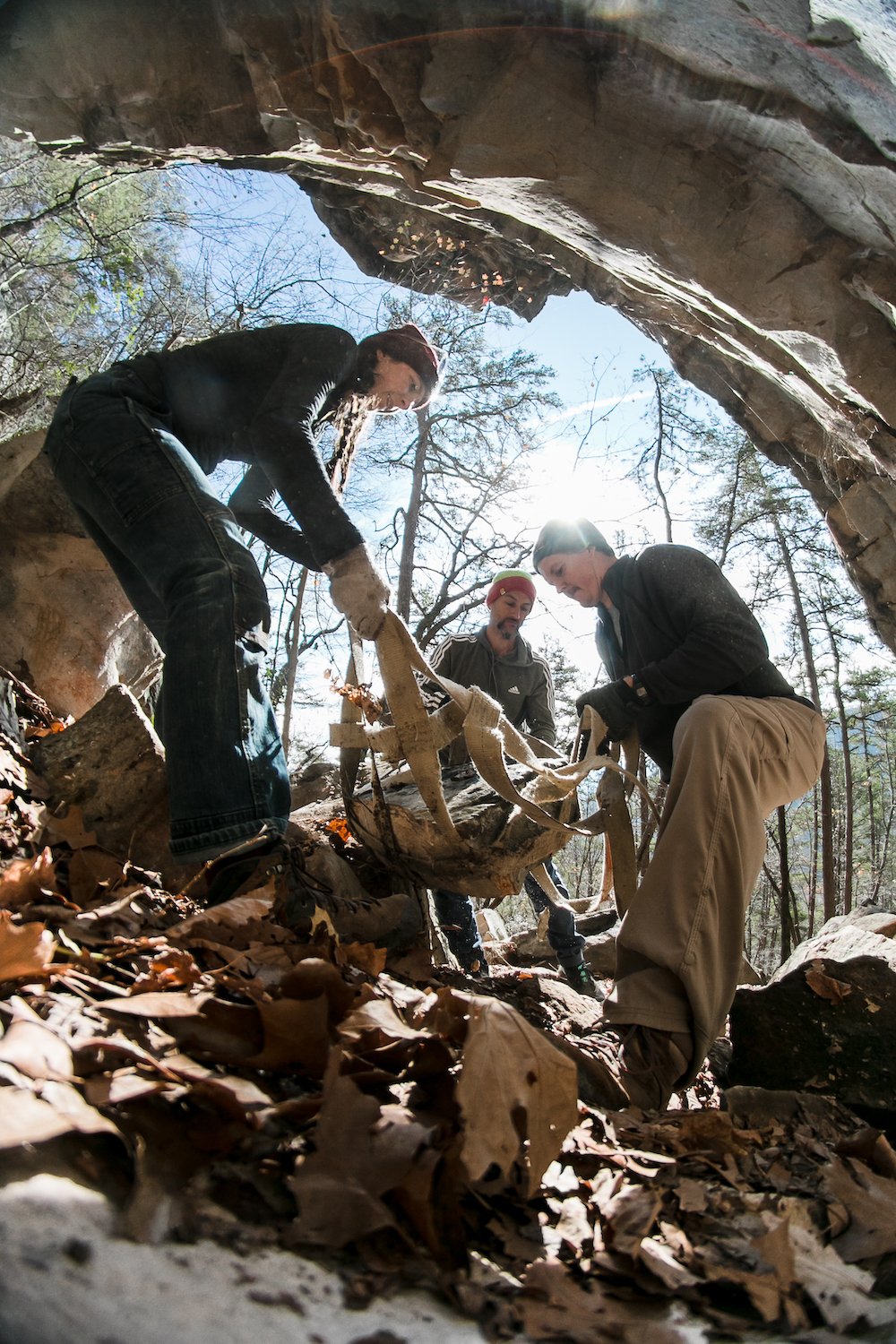 Photos: Caleb Timmerman, pictured, Access Fund and Stewardship Director hard at work.
Woodcock Cove is one of the largest individual projects the SCC has ever taken on. In addition to one of our largest projects to date, we are growing to meet the demands of our sport. Compared to ten years ago, when we hosted 12 regional trail days for the entire year, we hosted 13 trail days for Woodcock Cove alone in 2022.  
In 2022, we found more involvement from our community than ever before across all of our regions. In addition to the work at Woodcock Cove, we hosted 660 trail day volunteers, and over 3,100 hours of stewardship at a total of 43 regional trail days. Our work in every area is growing at speedy rates. To read more about our stewardship, education, fixed hardware replacement, and community outreach efforts, take a look at our annual report: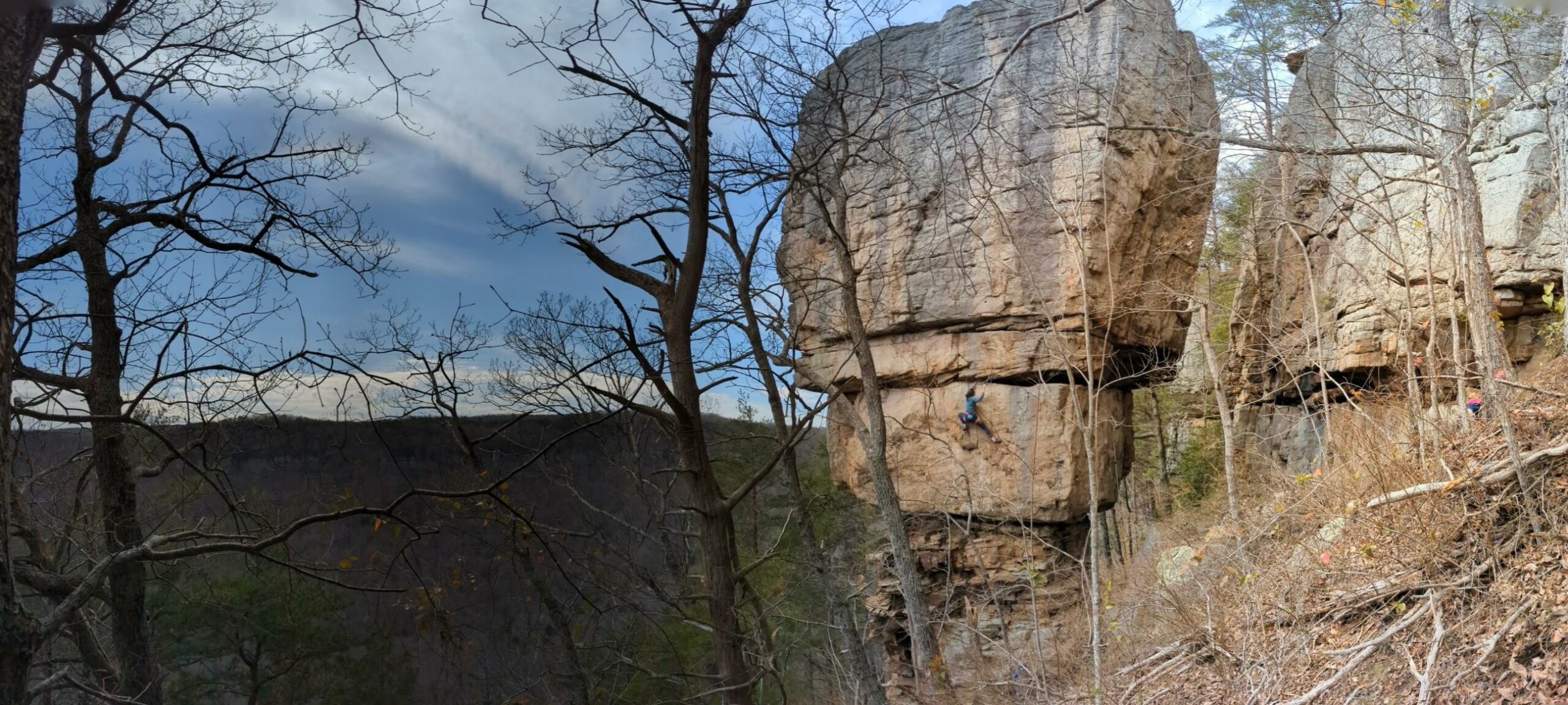 Much like Denny Cove, SCC will be responsible for the full build out of the property.  With the help of the community the Denny Cove loan was paid down over four years. Denny Cove has been transferred to the State of Tennessee and remains an open and protected space for generations to come. Woodcock Cove is an SCC property so the ongoing and routine care, in addition to purchase and build out, is our responsibility. 
Future plans for Woodcock Cove
In order to secure Woodcock Cove a few years ago, the SCC partnered with the Access Fund, utilizing their Climbing Conservation Loan Program. Securing the property, transactional costs, infrastructure needs, property taxes and other expenses add up to a whopping $243,137 in total project costs. 
We have secured the property, made large payments to the loan, made significant headway on some of the necessary infrastructure needs, but our work is not over.  Now, we're excited to partner with the Park Family, Blake Salmony, Michael & Jayme O'Donnell, Bob Farley, Hugh Smith and another anonymous donor for the 2023 Woodcock Cove Matching Campaign. 
Right now, when you donate to the Woodcock Cove Campaign, your dollars are doubled, thanks to our generous matching donors. Every dollar goes double the distance in helping us pay down the Woodcock Cove Loan.
No amount is too small. Help us meet our $10,000 matching goal to keep Woodcock Cove protected and open to the public in perpetuity.

Thank you to our partners for helping us to secure and protect Woodcock Cove: 
We want to take this opportunity to extend another thank you to the companies, donors, and volunteers who have been involved in making this project a reality. 
Access Fund and Riverview Foundation provided critical support and funds for the acquisition, allowing SCC to secure the property. 
REI Co-op, The Park Family, The O'Donnell Family, Becky & Lewie Card on behalf of the Matthew 25:40 Foundation, the Brown Family, Clay Sikes, all of our Conservation Legacy Donors alongside Ground Up Sales, Scarpa, High Point, Stone Summit, Crux Conditioning,  Prosthetics and Orthotics Associates, Laura Belts and Wesley Blaylock Family Fund, On the Road and Off, our BYOB Sponsors, for their contributions to the project. Sunbelt Rentals, Mike Cotti, and the Atlanta Climbing Club, who helped support our parking lot and project costs.