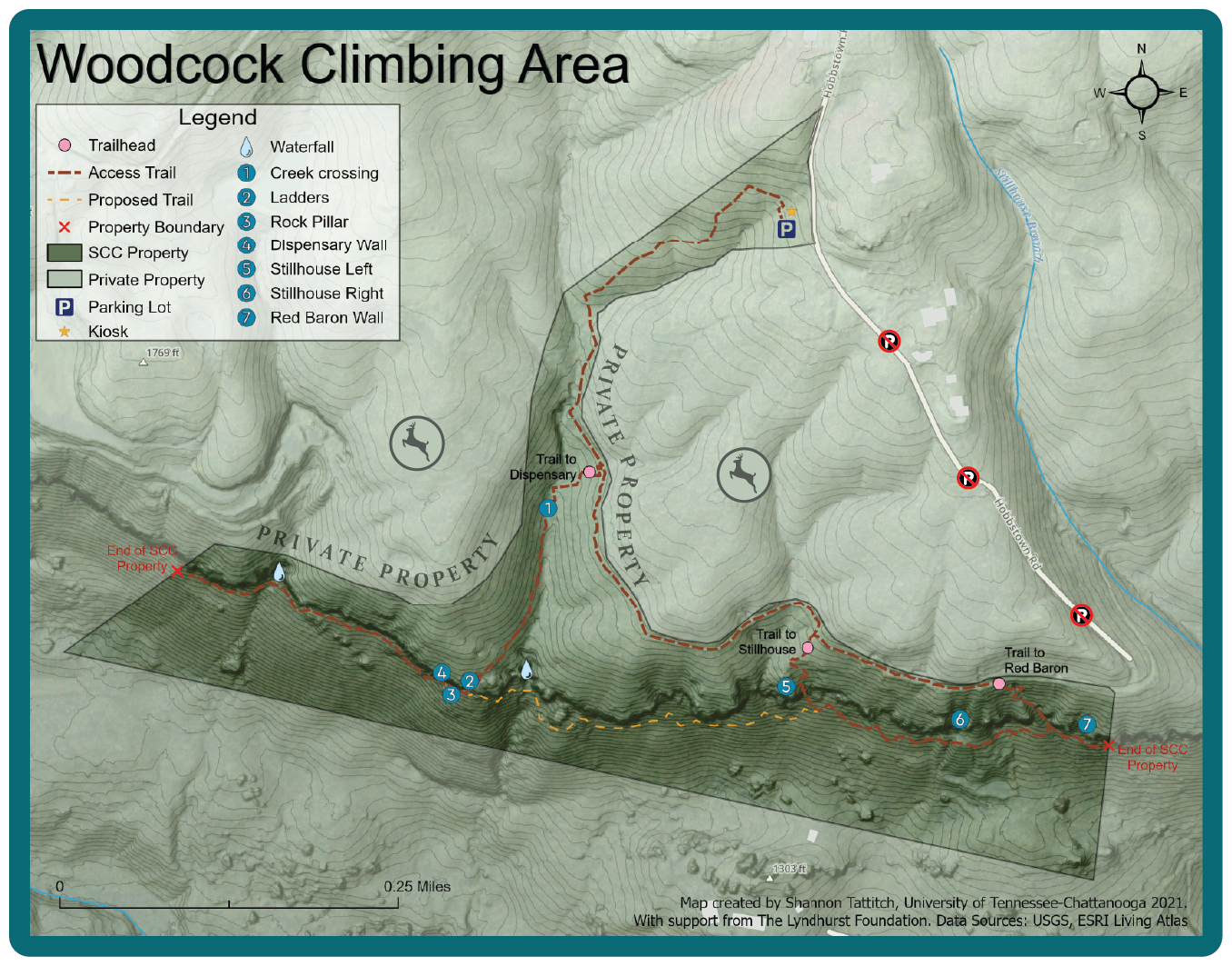 Land Manager: Southeastern Climbers Coalition
Native Lands: ᏣᎳᎫᏪᏘᏱ Tsalaguwetiyi (Cherokee, East), Shawandasse Tula (Shawanwaki/Shawnee),  S'atsoyaha (Yuchi) and other ancestral indigenous peoples of this region.
Area Rep: Michael O'Donnell 
Beta
Woodcock Cove is near the small town of Dunlap in Sequatchie County, TN, approximately a one hour drive from Chattanooga and a two hour drive from Nashville and Knoxville. An impressive mile-long cliff offers continuous single-pitch sport and traditional climbs. The rock is on par with all of the classic crags of the Cumberland Plateau, while also offering a distinctly natural experience; the area is filled with wildlife habitats, forests, streams, and an impressive view of the Sequatchie Valley. Woodcock Cove features a freestanding sandstone pillar, along with massive dihedral walls, both of which are unique finds in the Southeastern climbing scene. Established routes range from 5.8 to 5.13, and there are extensive sections that offer excellent climbing at more moderate grades. 
The Southeastern Climbers Coalition worked with private landowners to secure a 64 acre tract in Woodcock Cove, before engaging in a land swap deal to secure even more of the cliffline. As always, a focus on community and building relations with landowners was crucial in acquiring the crag. While initial funding has secured the area, SCC needs the help of local climbers and conservationists to raise $257,000 over the next 3 years to complete work on the project and pay off the conservation loans to complete the purchase. We need the entire community's help to fund this project.
Directions
What to Expect
Good mix of trad and sport routes ranging from 5.8 – 5.13 +
Access notes
This crag is open, but is still under construction. We ask that you stay on established trails.  Keep an eye out for trail day opportunities this summer and fall to help us continue building this crag!

Carpool

: Parking is limited, so please carpool. Walmart in Dunlap is a convenient spot to meet up and carpool from. 

Do not park in undesignated areas, including the road or neighbors property.

Permanent and semi-permanent slings and webbing should not be left on any route.

Bolting with permission only. Contact the SCC at kate@seclimbers.org to obtain a bolting permit.

Guiding, commercial operations, events, and group usage by permit only. Contact SCC for approval.

Do not leave valuables in your car.
Camping
No Camping Available, but plenty of lodging in the nearby town of Dunlap or camping offered by surrounding Tennessee State Parks.
Guidebook
A route list PDF is available as a donation gift! Click the "Donate" button below.