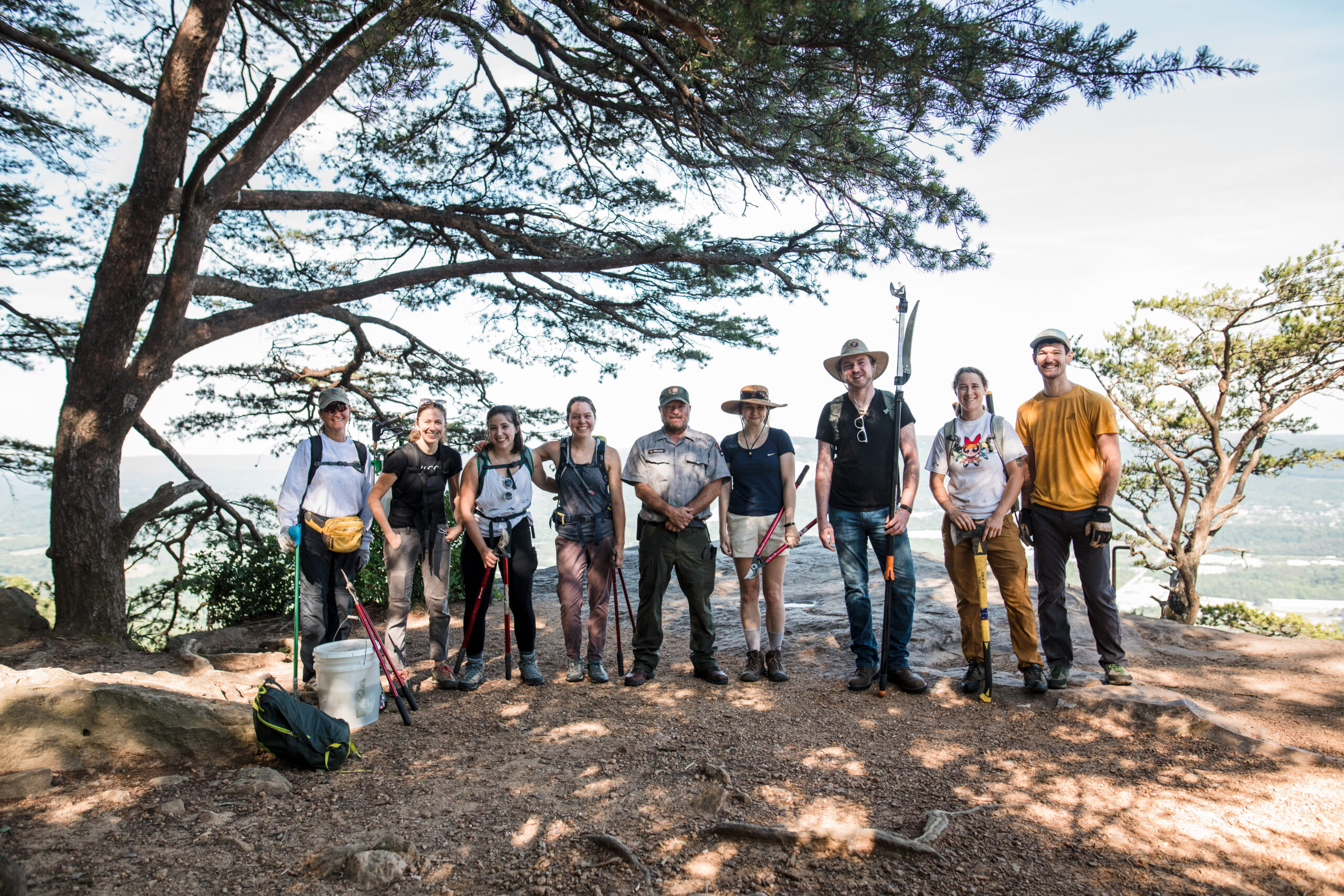 National Trails Day at Sunset Rock
Sunset Rock plays a very important role in SCC's origin story. For many years, we have partnered up for National Trails Days to support this iconic Chattanooga crag. Please join us so we can continue this great relationship with the NPS!
Please note: Parking is super limited at the Sunset Rock. Sign-up HERE so we can come up with a carpool/shuttle plan.
Chickamauga and Chattanooga National Military Park, the American Hiking Society, and the Southeastern Climbers Coalition are looking for volunteers for National Trails Day on Saturday, June 3, 2023. All volunteers are invited to meet at the Sunset Rock parking lot (400 W.Brow Road, Lookout Mountain, TN) at 9 am.
Join National Park Service staff and other volunteers for a trail workday on the Bluff Trail starting at the stairs leading down to Sunset Rock. This year's project will be the removal of exotic, invasive plant species and other overhanging vegetation along with picking up trash along the trail. The project will wrap up at approximately 12 pm. All tools and supplies will be provided to volunteers, but personal work gloves can be used. Volunteers are asked to wear long pants and sturdy, close-toed shoes, no flip-flops. Sunscreen and water are recommended.
---
 This event is part of our Trail Daze of Summer Series. 
If you come to any 3 trail days all summer at any location you'll be entered to win HUGE prizes at the End of Daze Party to celebrate all our hard trail work at the end of the summer.
The End of Daze celebration will be held on August 26th at On The Road And Off Headquarters in Chattanooga. Come enjoy some food and beverages and celebrate all the hard work you put in maintaining our crags!
Sweat it out. Earn rock karma. The climbing gods shall bestow all the sending power on you to redeem when temps lower once again.