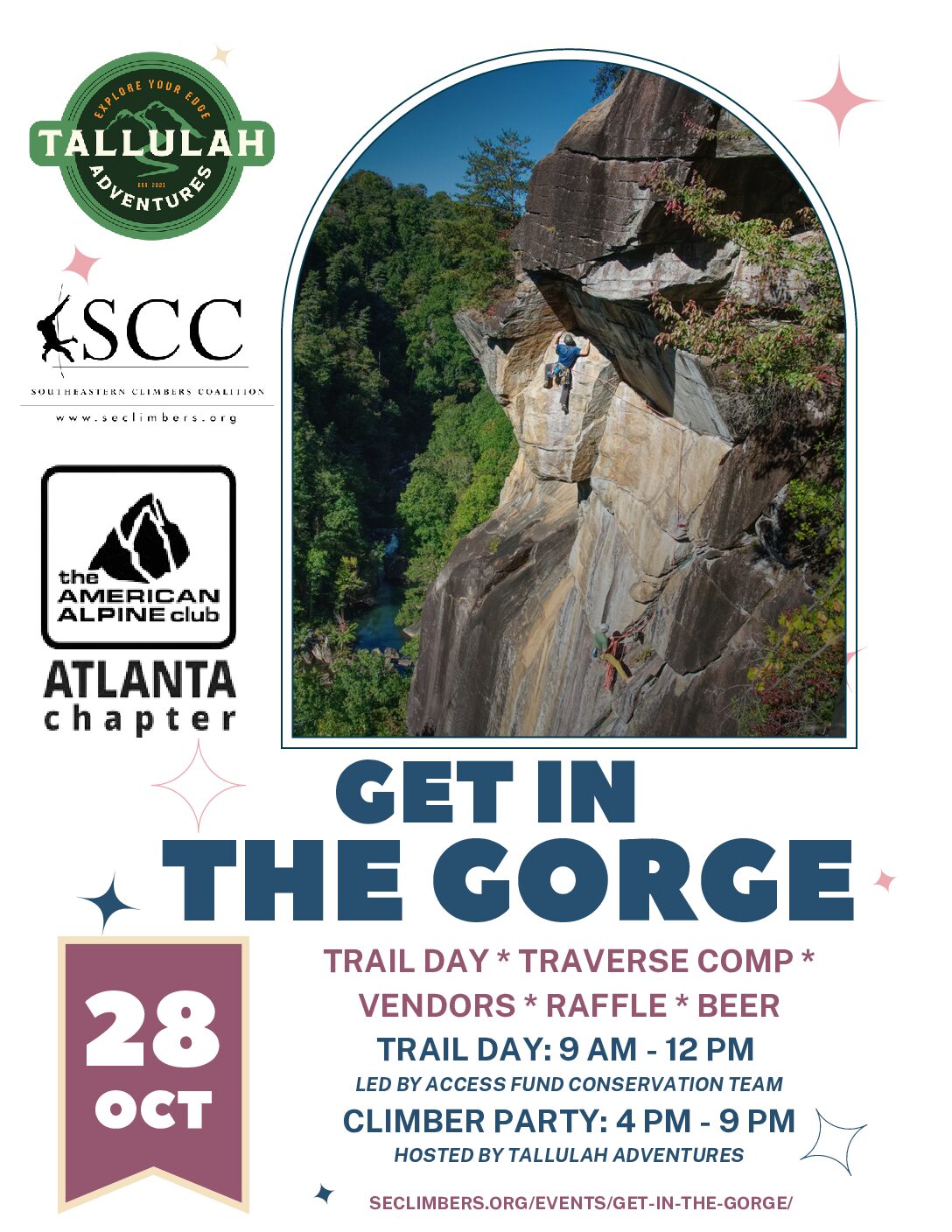 Get in the Gorge
Calling all climbers – grab your friends a get to the gorge for a fun fall day at the beautiful Tallulah Gorge!
In the morning, there will be a trail day led by the Access Fund Conservation Team. Stick around after for a climber party hosted by Tallulah Adventures. 
Tallulah Adventures opened their doors earlier this year with a mission "to enrich the lives of visitors and build community by providing resources and an inclusive space for people to gather and connect with the natural splendor of Northeast Georgia." This rad space has a café, bar, climbing wall and more. Come support this amazing addition to the community.
5% of proceeds from the night – food, beer, everything – will go to SCC, earmarked for Tallulah Gorge. 
We'll be running a traverse comp on the outdoor climbing wall – beat the current record, or go for a speed burn and try to get the fastest time. $5 entry
Shoutout to our friends at the American Alpine Club, Atlanta Chapter for helping organize this event!
TRAIL DAY
When: 9 AM – 12 PM EST 

Where: Tallulah Gorge State Park (Look for SCC + AF tents) 

Bring: work gloves, water bottle, snacks

Wear: close-toed shoes, weather appropriate clothing 
CLIMBER PARTY
When: 4 PM – 9 PM EST

Where: Tallulah Adventures 

What: fun + shenanigans!

beer + food for sale, with 5% of proceeds going towards climbing in the gorge

traverse comp – $5 entry 

raffle with sick prizes 

vendor booths from local climbing organizations and brands