Springtime is almost here, temps are changing and the SCC is excited to continue our progress on several stewardship projects. At the end of 2022, we held a membership drive with outcomes that far surpassed our goal. It is thanks to our SCC members that we are more than equipped to continue the work of stewardship, gaining and protecting access, and building a stronger community of climbers.
Today, we want to introduce Andrea Hassler, former executive director of the SCC, who believes that a strong climbing community makes all the difference.
A climber inspired by community
Andrea says she became a member of the SCC in 2017 while she was traveling for the Access Fund on their Conservation Team.
"I was so amazed at the immense and intense community in and around Chattanooga, Tennessee, and how everyone came together on and off the rock to show up to support, protect, and preserve climbing access in the region."
Andrea was exposed to rock climbing during her undergraduate school career. "I grew up in Maryland and first climbed outside at Crowders State Park in North Carolina during college. I then moved to the Front Range of Colorado for Grad School and really became a climber from weekend and post- and pre-school trips to Shelf Road, Garden of the Gods, and Turkey Rocks."
Now, as stewardship manager for the Access Fund, Andrea believes that climbing is bigger than our own projects, beta, and climbing trips.
Climbing is truly about a larger community to which we all belong. For her, community is intentional and should consider more than just our own time on earth.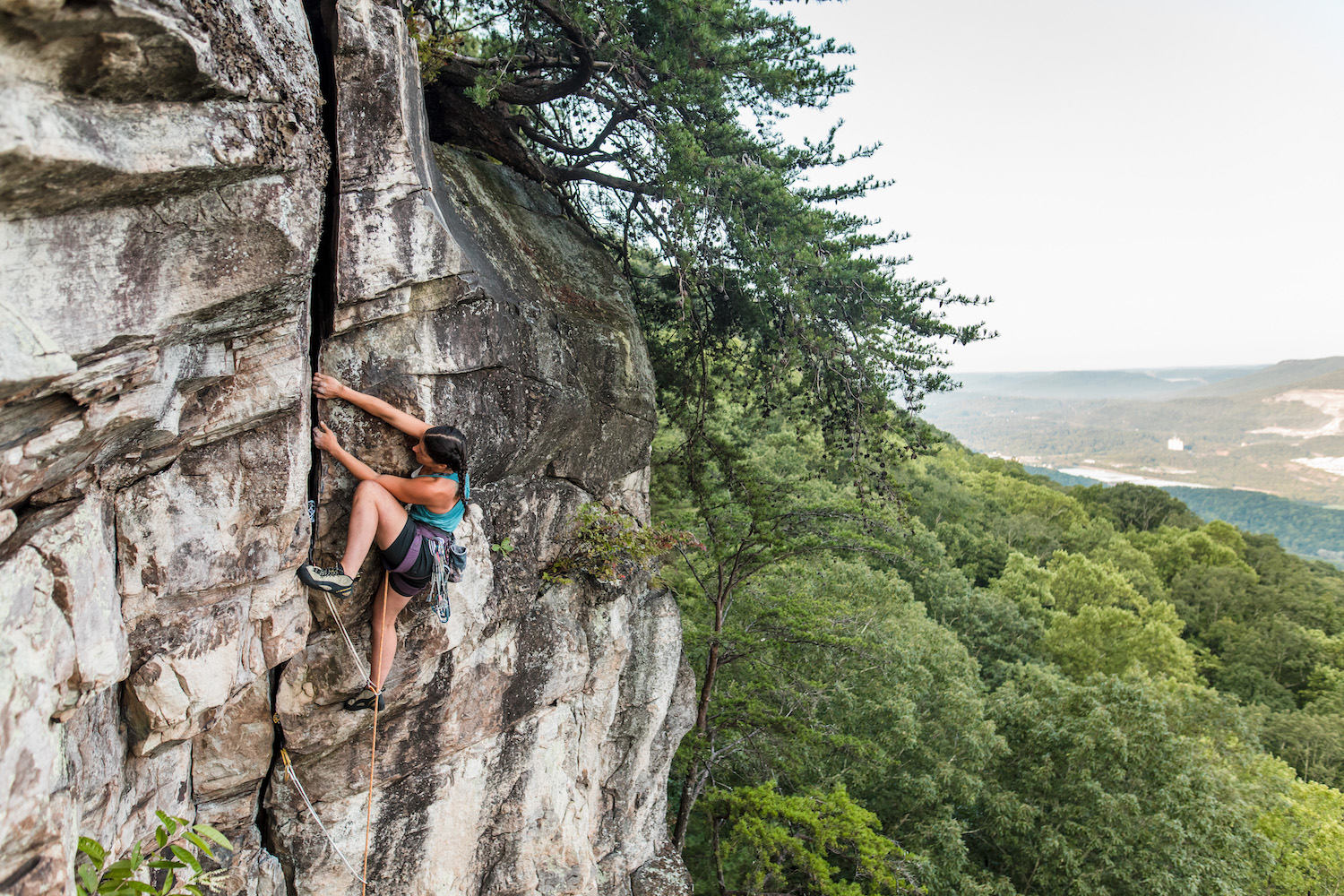 Considering 'the greater good'
"As climbers, we care deeply about the places where we recreate." Andrea says that in the 1800s, "Gifford Pinchot, former chief of the Forest Service, proposed the notion of 'the greatest good for the greatest number for the longest term,' an ideology that established the modern-day conservation movement and served as the foundation for management of forests in the U.S."
Andrea explains that this belief—thinking outside of ourselves as an individual and considering the greater community beyond the time that we currently exist on this planet—can be considered by climbers and conservationists alike.
"Members of the Southeastern Climbers Coalition are committed to preserving climbing areas for current and future generations. We recognize the importance of protecting the places we climb; we've seen them change as our impacts multiply over time, and more people join us accessing these places for the vertical pursuits."
"Bearing witness to those changes while simultaneously falling in love with those places and those people requires us to adopt a conservation mindset." Andrea says celebrating a climbing send is joyous, but doing our part in the bigger picture is just as, if not more, gratifying.
"Climbers and conservation go together because we kind of need each other. Climbers know these crags and boulder fields inside and out…these places need climbers as a watchful eye, as a voice of reason, and as a hand for protection."
For Andrea, the purpose and fulfillment of being involved in the SCC is a commitment to the community, as well as ourselves—to "show up and be about what we speak out, not just spray about it."
Getting involved
Andrea says SCC membership "is also supporting the people who put in the extra work to make this all possible: Kate Hanes, Caleb Timmerman, Meg Evans, the board and committee members, interns, volunteers, community partners, and more who make the real magic happen. As I've always said: if you can't give your money, give your time, and if you don't have money but you can still go climb, you've probably got some time."
Sign up to be an SCC member  or check out volunteer opportunities.