Created: 3/17/2020 Updated: 3/24/2020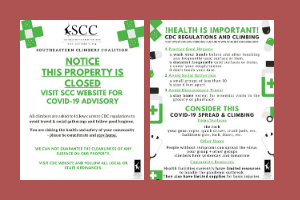 More info on this closure here.
Visit here for ways you can help your local community.
Visit Access Fund COVD-19 Resources here.
To the SCC Climbing Community, 
The health and well-being of our members, volunteers, staff, and board are our top concern. SCC board & staff are monitoring the situation regarding the COVID-19 Coronavirus and have a management plan that is continually developing according to the evolving situation.
All events and gatherings are postponed for a month based on current CDC guidelines and recommendations. See below for more information about Trail Days and Events. We will notify you when we reschedule these events as we look forward to maintaining our commitment to take care of the places we love. We appreciate your support as we make this tough call.
Current CDC guidelines urge us to "flatten the curve" – at the current time, we encourage climbers to please avoid climbing – more information provided below. We understand that the stress of our current situation can be overwhelming. We encourage you to look out for your fellow climbers and community as well as continue to spend time outdoors for your personal health and well-being.
CLOSURES: We will update this as soon as we receive notification.
All SCC Properties are temporarily closed: This includes Boat Rock, Hospital Boulders, Deep Creek, Steele, Jamestown, Yellow Bluff and King's Bluff. We understand the need to get outside to maintain your health during these difficult times, but we encourage you to stay close to home.
Chickamauga-Chattanooga National Military Park has closed all major parking lots and facilities. This includes the Sunset Rock Parking Lot and Cravens House Parking Lot. Some trails are still open at this time.
Chattahoochee-Oconee National Forest Recreation_Closure_News_Release: 3/21/20 "Camping and group recreation sites on the Chattahoochee-Oconee National Forests have been closed indefinitely for the health and safety of visitors and staff."
Little River Canyon: 3/23 Park Superintendent reported that the Canyon Center and restroom facilities are closed.
Tennessee State Parks: 3/24 current facility closures, including all public facilities and overnight accommodations. Activities approved include hiking, biking, fishing and other passive outdoor rec. Park Hours for all TN State Parks are 7a-6p daily (effective 3/26 – 4/10)  The South Cumberland State Park (including Foster Falls and Denny Cove) are experiencing significant traffic at this time. Hell's Kitchen, at Cumbberland Trail State Park, is experience crowding at this time.
Cherokee Rock Village is experiencing significant traffic at this time.
Laurel Snow Pocket Wilderness: State altered howurs due to COVID-19 outbreak, new schedule: 8a-6p M-F; closed Sat-Sun.
*Update: Tuesday, March 24* Access Fund COVID-19 Resources for Climbers includes a list of all current closures and current recommendations for climbers.
From the Access Fund page:
We strongly encourage all climbers to help flatten the curve and err on the side of caution. Here's how you can help:
DO NOT travel to climb. 
Strictly comply with all shelter-in-place and similar orders.
Strictly comply with all closures and restrictions, and follow federal, state, county and city guidelines on social distancing.
DO NOT take unnecessary risks. Don't be the person that creates more stress and burden for our medical and SAR professionals. "
*Update: Monday, March 23*
We've heard several reports of crowded crags over the weekend and raised concerns about hospital capacity and limited resources. Please closely consider the CDC regulations discussed below to avoid discretionary travel and social gatherings as well as practice good hygiene to avoid spreading the virus. Basically…please try to stay home for the next couple of weeks and limit outdoor adventures to neighborhood walks or local hikes, bike rides or trail runs where you can adequately keep distance and avoid frequently touched surfaces. The rocks will welcome you when you get back.
*Update: Friday, March 20th*
CDC released the report "15 Days to Slow the Spread" that outlines some key guidelines to reduce potential exposure for at-risk individuals. Our mission is to preserve access to climbing, and as such we want to encourage folks to consider the cumulative impact of climbing trips in the near future – and hopefully make some adjustments to slow down, social distance, and flatten the curve.
Locally, we've seen our gyms and businesses closing their doors. We also see a national trend of increased visitation to popular climbing areas. We are hearing reports from decreasing capacity at hospitals in Atlanta and limited supplies at hospitals in Chattanooga. We know that getting outside can boost our mental, emotional and physical health, and right now we need a lot of that. Below are some of the current CDC regs and how they relate to climbing outside in the near future.
First, and most importantly, this report calls out "avoid discretionary travel", which would include trips for recreation. In our region, think about the stops you might take along the way to your destination, such as gas stations or convenience stores in rural towns. While these communities benefit from tourism dollars, they are vulnerable to any strain on their limited health care services. Additional pressure from increased virus spread to regular visits –  a common simple injury while climbing could require use of medical facilities and PPE (such as masks and gloves), placing undue pressure on limited capacities. Please stay close to home to avoid putting pressure on these small towns limited resources.
Next, CDC encourages people to "avoid social gatherings" in groups of more than 10 people. Many of our climbing areas are becoming over-crowded and visiting these spots reduces our ability to "flatten the curve". Climbers should consider their own group size and ability to maintain adequate social distance from other climbers at the crag or boulderfield. But also – consider how crowded the crag might be when you get there. If you look around you and see there are more than ten people and you're unable to stay the recommended 6 feet apart, it's probably time to leave, and then consider this next point….
Finally, the CDC continues to encourage all people to "practice good hygiene". This includes washing hands before and after touching any frequently used item or surface and that surfaces should be disinfected regularly. In climbing, this includes the rock, ropes, crash pads, quick draws, or other climbing gear that we pass around to each other. Washing and disinfecting between use is really difficult to do when you're out at a crag and is much easier done in your home than at a public area. If you're training at home, make sure you're staying clean! Keep in mind that your "coworkers" (real or not) will notice any chalk marks left on your forehead, cheeks, nose or lips…so be sure to avoid touching your face and use a hanky to cover those coughs or sneezes during your home hang board sessions. 
When you go out for your solo adventures, be sure to check any additional and current regulations or guidelines for the place you visit. You can find information regarding accessing your State Parks here:
(Good news: they're still open! Go play! Wash your hands!)
You can continue to look out for public health announcements concerning hygiene and safety through the CDC.
Trail Days:
We will postpone upcoming Trail Days for the next 30 days. While our Trail Days typically consist of small to medium sized groups of people, due to the nature of our current projects, we feel this is an appropriate decision to minimize potential spread of the virus at the present time. We will make a call on April 1st for rescheduling volunteer events.
Trail Days that will be postponed:
Currahee Trail Day
Moss Rock Trail Day
Sand Rock Trail Days (including Trail Daze of Summer on April 4th & 11th)
Our staff will continue to work on the Sand Rock Stewardship Initiative for the time being – so if you see them out there, feel free to give them an "air high five" while they continue the stabilization project at the Boy Scout Wall. 
Events:
Fortunately, we've made it through our big events for the season with two successful climbing comps (and had a great time doing it!). However, all of our upcoming Pint Nights and community events have been postponed until further notice. 
Events that will be postponed:
Critters and Climbing Pint Night
If you have any questions regarding postponed trail days or events, feel free to reach out to us at stewardship@seclimbers.org. If you have any other questions or thoughts, feel free to reach out to our Executive Director, andrea@seclimbers.org.
In case you were wondering….Andrea already works from home, as the SCC office occupies one room in her Chattanooga rental house, so she has continued to do so while taking all meetings over the phone. Our volunteer Board of Directors will continue to communicate remotely.
Sincerely,
SCC