Updates from our Stewardship & Outreach Coordinator, Dana Passman, on her recent efforts to establish access to the W Road Boulders in the newly acquired Walden Ridge Nature Park.
On an exceptionally steep hillside of Signal Mountain, near the eastern edge of the Cumberland Plateau, lies the newly acquired 200 acres of Walden Ridge Nature Park.  In 2018, this property was donated to the North Chickamauga Creek Conservancy (NCCC). Since then, SCC has teamed up with several local non-profit conservation groups to create a one-of-a-kind public park for climbers, bikers, hikers, and the community at large. Alongside the Land Trust for Tennessee, NCCC, SORBA Chattanooga, and Hamilton County Parks, this collaborative partnership is working to create public access for all to enjoy. The SCC's role in this project is to identify high priority boulders, as well as establish access to the boulders.
 In the beginning, our objective was exploration. Early days in September were spent hiking over tracks our previous SCC Stewardship Director marked on a map and scouting the slope of this wild-but-urbanized land. There's something special about hiking around a parcel of woods with no pre-existing trails, besides the remnants of an old logging road used decades ago. However, bushwhacking comes with a price: bloody scrape-covered legs from immortal briar bushes, bruised knees from scrambling up loose rocks in the creek bed, and hundreds of micro seed ticks that only came off with tweezers. This was just the start of developing access to the Walden Ridge boulders, and an ode to warm-weathered southern days. 
As the seasons changed, and most of the ticks hid away, we began our technical work. The main objective was to install erosion-control structures at boulder landings: structures such as retaining walls, rock stairs, and check steps. The wonderful, though sometimes tricky, aspect of implementing pre-erosion retaining walls is that we get a chance to prevent erosion from happening in fragile areas. As trail builders, we don't often get this opportunity to step in before-hand in a boulder field. This approach requires another element of design: we have to predict the future, like a soothsayer, using our recognition of what might become a potential problem with heavy foot-and-pad traffic. 
We first focused our efforts at an area dubbed The Picnic Boulders. We determined this site high-priority because of 1) it's close proximity to the trail-head, 2) it's abundance of moderate climbing around several sizable boulders and, 3) because of the potential erosion, specifically in the gullys between boulders. We constructed two 10+ ft retaining walls in each gully, with a couple of check steps for good measure.
Since then, our work focuses on creating a trail system in the boulder field. We built a rough-cut trail for climbers to navigate a seamless path winding between high quality boulders. From switchbacks to rolling grade dips, we have a lot of fun building the technical aspects of the trail. Some of the boulders you will see along the way include Marshmallow, V8 Juice, The Fin, Sleeping Dragon, and Orange Mega. Next up, we will begin fine-tuning the trail to perfection: grading the tread surface, removing tripping hazards, and placing rock steps where necessary. 
Volunteers during the Access Fund Adopt-a-Crag
This project is incredibly special to have in our community; Not only is it very accessible, located 15 minutes from downtown Chattanooga, but it provides many different recreational activities for everyone to enjoy. From climbers to mountain bikers, runners, and anyone looking to play in the woods, there will be a place for you at Walden Ridge. We would not have had this opportunity without North Chickamauga Creek Conservancy spear-heading the way — along with help from the Land Trust for Tennessee, SORBA Chattanooga, IMBA, and Hamilton County Parks. By teaming up with these different recreation and conservation groups, we are able to begin to bring this park to life. Afterall, our collective mission is to conserve outdoor spaces for everyone to enjoy. 
We are eager to show everyone just how special this place is, however, it may be a little while until Walden Ridge Nature Park is open to the public.There are many factors at play here and I won't bore you with the details, but we are working hard to get to an opening date in the future. For now, volunteering is a great way to see the land and get a scope of the climbing out here. Many of these boulders have not even seen ascents yet! If you like getting dirty and calloused, you'd fit right in out here. If you want to learn about trails before they are trails, come be a part in their creation. And if you care about climbing access (in Chattanooga's backyard!), please come and join us.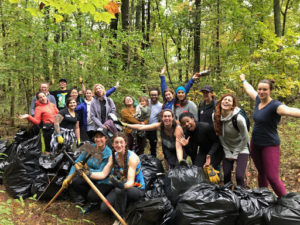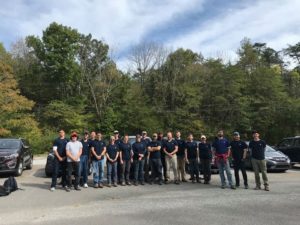 Volunteers from: Flash Foxy Climbing Festival, Access Fund Trail Day, & TVA Day of Service
During trail days, volunteers learned how to swing a Pulaski in order to remove stubborn roots. They "scratched the earth" with McLeods to pave the way for the new trail. They hauled out literal-TONS of trash, relics of passing vehicles on the W Road. They stepped outside of their comfort zones, many times, to welcome a new challenge that comes with working outdoors.They gave up climbing days to give back to the community. I thank you all for your dedication not only to the SCC, but to these landscapes that will forever be shaped because of you. 
If you want to be involved in our trail days, look out for events posted on our calendar and facebook.
Thank you for your time, energy, and stewardship.
Happy Trails,
Dana, Stewardship & Outreach Coordinator
Big thanks to: North Chickamauga Creek Conservancy, Land Trust for Tennessee, Hydroflask, SORBA, IMBA,  Access Fund, Lyndhurst Foundation, and Rock Creek Outfitters.