General information
Land Manager: Access Fund and Southeastern Climbers Coalition
Area Rep: Taylor Bryant, wtaylorbryant@gmail.com
Access Fund and Southeastern Climbers Coalition (SCC) are pleased to announce the purchase of two bouldering and climbing access properties just north of Chattanooga, Tennessee. This acquisition secures a new climbing area, known as Hell's Kitchen, and creates a critical public access point to the climbing at Dogwood Boulders.
Hell's Kitchen, located just outside the small community of Graysville, is a 10-acre property adjacent to Cumberland Trail State Park. SCC and Access Fund completed construction of a 2 mile approach trail to the boulders in 2018, creating access to this amazing and remote boulderfield.
We need your help!
We need donations from the local climbing, hiking, and conservation community to finalize this project and complete the transfer to Cumberland Trail State Park. Access Fund and SCC are working together to raise $162,000 to cover the purchase price, transaction costs, and necessary trail and stewardship improvements to create sustainable access to the areas. Click the button below to donate today!
Directions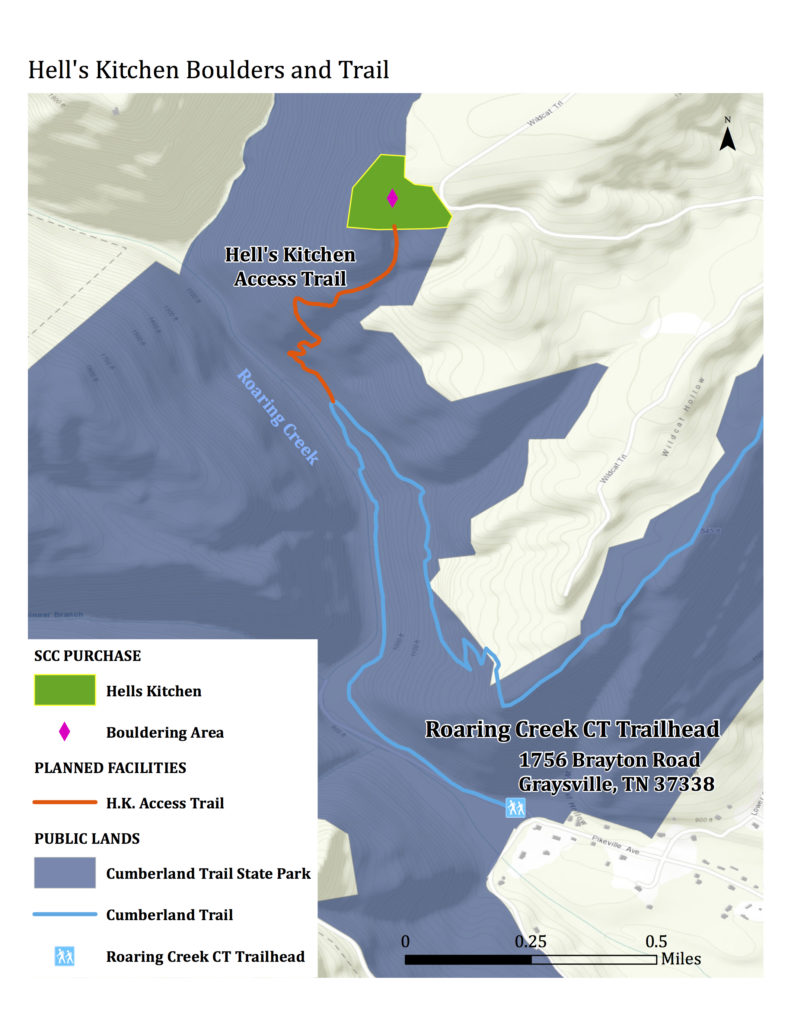 What to Expect
The area has never been open to climbing, and it features a densely concentrated boulderfield with free-standing blocks, short sections of cliff, and a labyrinth of hidden corridors offering hundreds of problems and a small number of short, gritstone-like routes. Boasting quality sandstone, varied terrain, and striking lines, this is a prized new climbing resource, comparable to the bouldering at nearby Stone Fort and Rock Town.
No bolting or route development at Hell's Kitchen until further notice. As we prepare to transfer the area to the state, we ask that no routes are developed at this time. If the status changes, developers will be required to follow the Cumberland Trail State Parks Fixed Hardware Committee Guidelines.
Camping
No camping at Hell's Kitchen. You can find backcountry camping along the Cumberland Trail or paid camping at Dogwood climbing, LLC.
Guidebook