General information
Land Manager: Cumberland Trail State Park
Area Rep: Christian LeBlanc, thedogwoodclimbing@gmail.com
April 24, 2018–We are EXCITED to announce the acquisition of Dogwood West, a 7-acre tract off Bluffview Road in Graysville, TN. This purchase will provide a key public access point to the Dogwood Boulders, previously only accessible via a 6-mile hike, and a new trailhead for the Cumberland Trail.
In 2009, a large portion of Dogwood Boulders was preserved in a major land conservation acquisition that added thousands of acres to Cumberland Trail State Park, creating the Graysville Mountain section. But that purchase still left a portion of the Dogwood Boulders unsecured, with a lengthy hike. This new acquisition secures a critical access point which now features a new public parking area and trailhead off Bluffview Road, as well as a small section of the overall Dogwood Boulders and a portion of cliff line.
We need your help!
We need donations from the local climbing, hiking, and conservation community to finalize this project and complete the transfer to Cumberland Trail State Park. Access Fund and SCC are working together to raise $162,000 to cover the purchase price, transaction costs, and necessary trail and stewardship improvements to create sustainable access to the areas. Click the button below to donate today!
Directions
Google Maps to parking lot & trailhead.
Or copy/paste this plus code to Google Maps: FWW7+9M Dayton, TN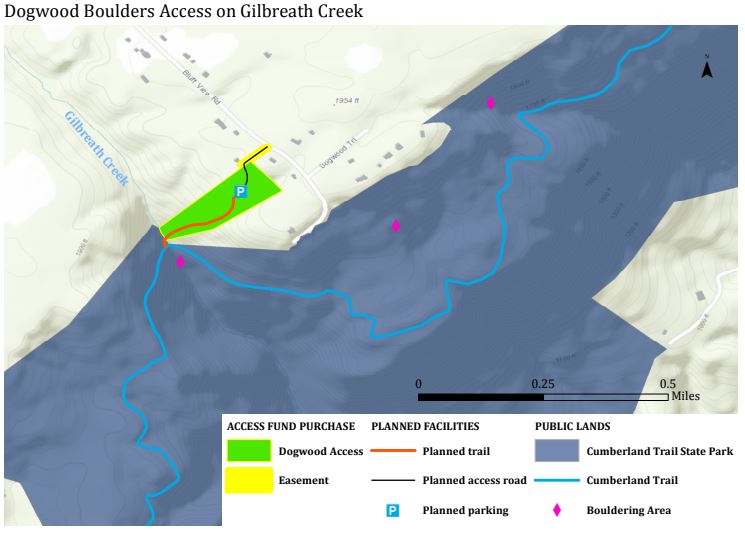 What to Expect
Dogwood Boulders are on Cumberland Trail State Park property and host some of Tennessee's premiere bullet sandstone.There are many developed boulders, as well as a large amount of first ascents waiting for you. Dogwood is a easy-moderate hike, with boulders in large clusters, spread out along an approximately 1-mile stretch.
Access notes
Be a good neighbor: Please make a good impression by driving slowly, smiling and being respectful to our neighbors.
Dogs: Dogs are welcome, but please keep them on a leash.
Leave No Trace: Keep this area beautiful and clean. Clean up after yourselves, your peers, and your pets. Lead by example and pick it up on the first pass.
All route development must be approved by the CTSP Fixed Hardware Committee
Camping
There is camping at nearby Dogwood Climbing, LLC
Guidebook
You can find a small section on Dogwood in the Chatt Bloc guidebook